I'm no grief counselor or psychologist. I don't even play one on the blog.
But the passing of a Facebook friend I have never met in person got me to thinking, and maybe it's something that professionals in this area already are thinking about: How do we process the loss of such friends we've never met in person but with whom we've seemed to bond on social media?
Of course, the term "friend" has had its elasticity tested via social media, most notably Facebook. Press "accept friend request," and voila, you're now "friends" with somebody who might be the "friend" of another friend on Facebook.
I raise this question because I received notice on my page that FB friend Rich had passed away a few days ago. Rich and I had become Facebook friends through my work as the Cubs beat writer for the Daily Herald. Ol' Rich was an irascible sort, and I mean that in the best possible way. He worked as a teacher and a collections agent. He was a dad, a husband and a linguist.
He also loved the Cubs (and the Green Bay Packers), and he had his opinions about all such things, sports and non-sports. Some of those we shared – our general worldview – and some we didn't. Rich wouldn't let go of his distaste for former Cubs manager Joe Maddon, believing that the Cubs won the 2016 World Series in spite of Joe. Much as I would try to tell Rich that Joe kept the Cubs on an even keel after they got down three games to one in the Series, he was having none of it.
All Rich would talk about with me was Maddon pulling Kyle Hendricks (whom he called "Voodoo Child" in honor of Jimi Hendrix) early, setting the stage for the near disaster that followed. I agreed with Rich that Hendricks should have been allowed to keep pitching. But Rich never let it go, so I had to let it go in one ear and out the other, or whatever the social media equivalent of that is.
I'm 64 years old, and Rich was close to a decade older. We'd talk now and then about grabbing a cup of coffee somewhere on the Northwest Side, but we never did it.
PRO TIP: If you make plans to have a cup of coffee or lunch with a friend – a "real" friend or a social media friend – go do it. You never know when that chance will be lost forever.
I think Rich and I would have hit it off in person. He was always generous with a FB comment about my daughter, Sarah, and her swimming and/or academic exploits. I'm sorry we never made the time, and the pandemic certainly didn't help matters.
Almost a year ago, another Facebook friend, Dick, passed away at home. Dick was another interesting guy – ex-Marine, beer lover and Cubs fan.
One day two or three years ago, he posted on Facebook that he was out at Wrigley Field early to watch the Cubs. He took a photo from his seat location and posted it. I had completed my pregame reporting rounds, so I decided I'd try to find Dick based on the photo he posted. With his big mustache, he was easy to find. So we sat in the upper deck and chatted for about a half-hour about all manner of things.
I'm so glad I did that. Over the years, if we were at a bar or restaurant and I had a local brew or a beer that looked interesting, I'd send a photo to Dick, and he would tell me all about that beer. If he hadn't heard of it, he would say, "I will try that."
As sad as I was to read on Facebook of Dick's passing, I felt good that he and I were able to connect in person.
That brings me to an overall observation about social media and social media platforms. As much as they can bring out the worst in all of us (see Twitter, especially), they can bring us together and spark true friendships.
A few years ago, I became friends on Facebook with a nice guy named Jeff Thomas, who lives with his family in The Hague, Netherlands. Jeff is a huge Cubs fan. He and his family visited Wrigley Field in 2015. Again, before the game, I headed down to the stands and visited with Jeff and the crew before the game.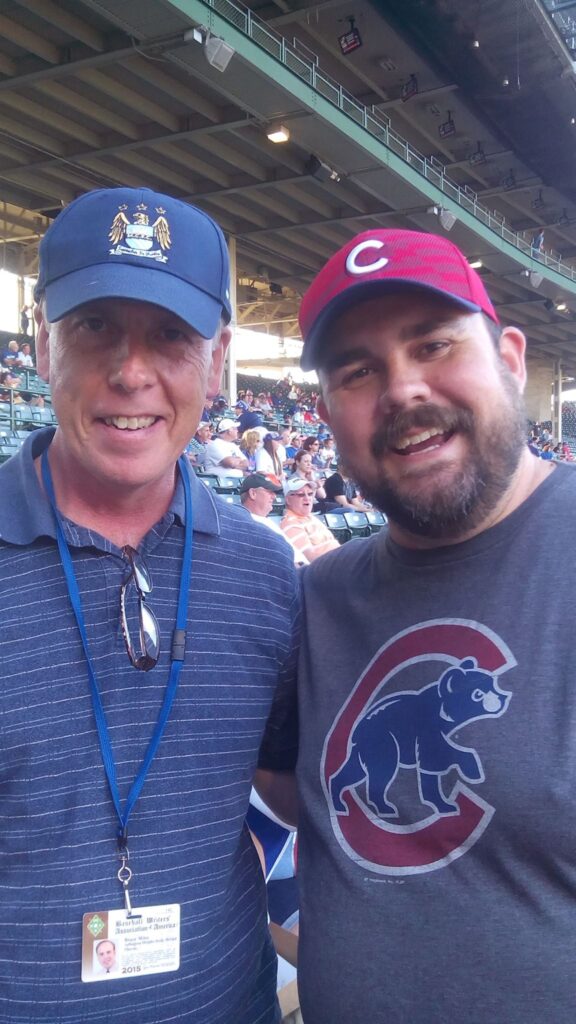 Two years later, we had a chance to visit Europe, with the Netherlands being one of the stops. My wife, Arlene, and met up with Jeff one night in a local establishment and drank beer and talked long into the night.
Jeff posted: "Following up on the 'away' fixture at Wrigley Field, it was a huge pleasure to welcome Bruce and Arlene Miles to Den Haag for the home game. Beer was drunk, the world was put to rights, and several hours of good, clean fun were had by all. Thank you guys – it was an enormous pleasure to see you again."
The nice part of social media. And Jeff and I continue to talk to this day.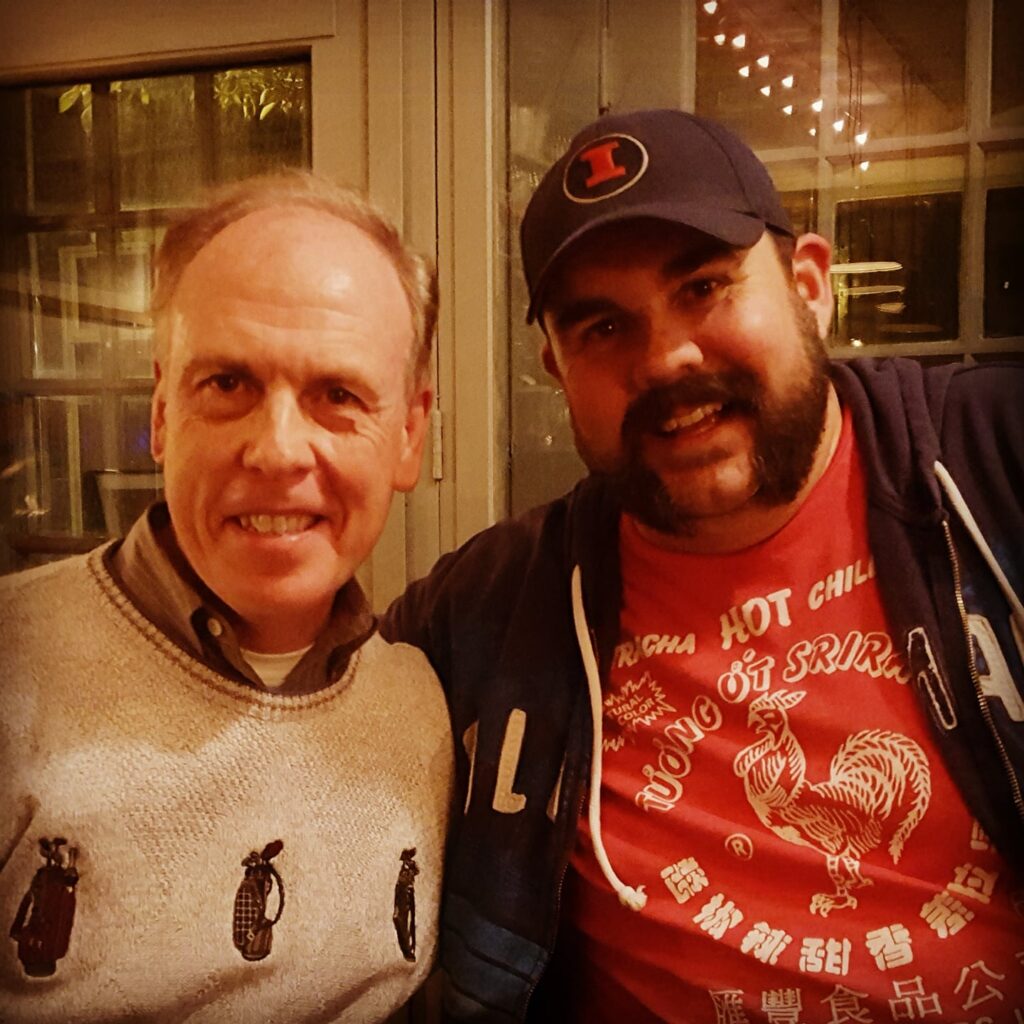 Over the years, whether it's been Facebook, Twitter or music-related platforms, we've been able to hook up in person with people we otherwise never would have met, whether it be at concerts or pre-concert meet-ups (in cities all over the world) or over dinner in York, England, London or Cologne, Germany, where we saw a Bundesliga game, ate lots of German food and drank lots of German beer with Peter and Ali, a music-group friend who flew in from England to hang out with us. (Peter served as a wonderful tour guide and translator for my semi-good German.)
When Ali died suddenly a few years ago, his friends around the world felt it, but those of us who had met him in person were comforted that we had done so. Same with our friend, Paul, from Warrington, England. We met Paul and his wife, Elaine, for a pint at our hotel in Manchester and talked for a couple of hours about music and English football. I'm a Manchester City fan; Paul liked Manchester United. But because I wasn't a Liverpool supporter, we were good. After that, Paul would message me on Facebook from across the pond at all hours to see if I had watched the games that day. Paul passed a few years ago, and I find myself missing those chats.
Moral of the story: Yes, you can make true friends on social media. And do go get that cup of coffee with that friend.