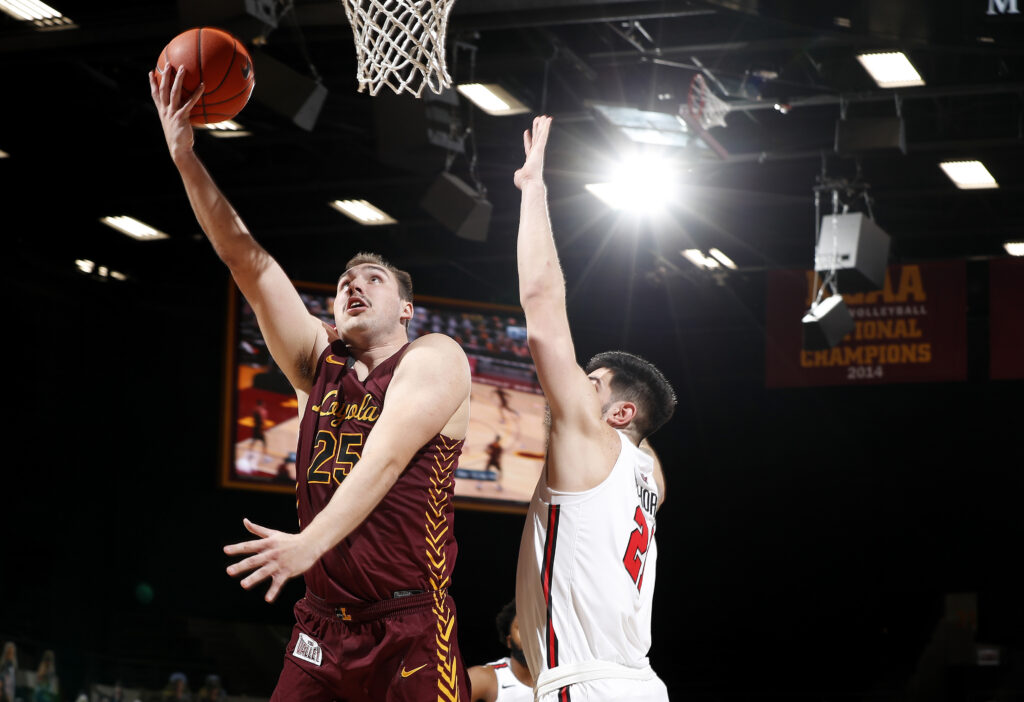 During the past four years, Cameron Krutwig became one of the most recognizable young student-athletes in Chicago, if not the entire nation.
As a freshman, Krutwig was part of a stunning run to the Final Four by the Loyola University men's basketball team. This past March, as a senior, Krutwig was the leader of a Ramblers team that advanced to the Sweet 16 of the NCAA Tournament. The Ramblers won the Missouri Valley Conference tournament and then beat Georgia Tech and Illinois to reach the Sweet 16.
Because of the COVID-19 pandemic, Krutwig could have come back for another year of basketball with Loyola, but he chose instead to turn pro. He recently signed a two-year contract with the Antwerp Giants (Belgium) of the Euromillions League.
In 2020-21, Krutwig was an Associated Press Third Team All-America, CoSIDA Second Team Academic All-America and Missouri Valley Conference Player of the Year.
This season, he contributed 15.0 points, 7.0 rebounds, 3.0 assists, 1.1 blocks and 1.1 steals per game, while hitting 57.4 percent of his field-goal attempts.
Krutwig is the only player in program history to rank in the school's top ten in scoring, rebounding and assists, finishing his career with 1,833 points, 944 rebounds and 373 assists. He also is one of only four players in MVC history accumulate more than 1,500 points, 800 rebounds and 300 assists, joining Oscar Robertson, Larry Bird and Hersey Hawkins.
Cam is one of seven players from Loyola's 2018 NCAA Final Four team to play professional basketball overseas, joining Clayton Custer (Poland), Donte Ingram (New Zealand, Netherlands), Aundre Jackson (Iceland, Ukraine, Cyprus), Ben Richardson (Poland, Czech Republic, Switzerland), Carson Shanks (Malta) and Marques Townes (Spain, Estonia).
This week, I spoke with Krutwig about his decision to turn pro and about the legacy he and other players have left at Loyola. The transcript has been edited for clarity and brevity.
Question: Can you tell me about your decision to play in Belgium? What went into it?
Answer: Once I made my decision to go pro and not come back and use that extra year of eligibility, I signed with an agent, Keith Kreiter of Edge Sports. He put out a bunch of feelers across Europe and the NBA to try to get a scope of where people see me playing, where people see where I could fit in. I had some other interest. The Antwerp Giants is a great organization. It's a great starting spot for your career in Europe. I like the coach.
When I was picking an agent, every agent said the same thing: "You want to be somewhere where you can play a lot in your first year. You don't want to overshoot your level in your first year." I'm a rookie. This is my first year playing professional basketball. You don't want to go somewhere where the money is really great but you're playing on a really good team in a really good league and you're getting 10-15 minutes a game. You have a couple bad games and you could fall out of the rotation. You want to go somewhere where you can develop, where you can get used to what it's like in Europe. I felt that was the best decision for me to go to this team in Belgium. I got a two-year deal, which is a little unusual. Usually it's one-year deals. I got a two-year deal, so I felt comfortable with a little bit more security. At least you know you're going to be back for that second year.
Q.: When are you going over to Belgium and long does their season run?
A: I go August 8. The season doesn't until about September 25. It's a lot of games. It's a 10-month season, September-June. It starts with maybe 2-3 games a week. Some of those are exhibitions. Some of those are league games. Some of those are games we play in the FIBA Cup (European tournament).
Q.: Is the Belgian league connected with the league in The Netherlands?
A: Yes, and that's actually a pretty cool aspect, being a Loyola guy. Donte Ingram signed to play in The Netherlands. Another guy from close to my hometown who went to one of our rival high schools signed to play on the same team as Donte. I think how it works is the first three months of the season The Netherlands teams play in The Netherlands, and we play in Belgium. Then they take the top five teams from each league. Starting in January and February those top five teams from each league play and home-and-home in a bigger league. If Donte's team finishes top five and we finish top five, we could be playing a little home-and-home against each other.
Q.: Tell me about your workout routine. How grueling is it?
A.: I've being doing a lot of things since the (Ramblers') season ended in March. I took 2-3 weeks off to decompress from the season. I've really kind of homed in on trying to slim down a little bit. Every year at Loyola, I took strides at slimming down. Just like from high school to college, you take a step up in your training. Now to the pros, you definitely take another step up. I've been going to a place in (Vernon Hills) called Spear. There are a lot of great guys up there, a lot of Chicago Bears guys working out up there. It's more for weights and conditioning – strength, speed. Usually I'll go there in the mornings 4-5 days a week. Right after that, I'll head over to Schaumburg with my trainer Zac Boster. I've been working there 6-7 years now since I was a freshman in college and maybe a couple years before that, when I was in high school. That's all basketball stuff, whether it be shooting, dribbling, skills, putting up shots, touch. Usually he has 2-3 pro runs every week, which is five on five with a bunch of other guys. Actually (former Rambler) Milton Doyle has been up there the last couple of weeks. Most of these guys who are pros, their seasons didn't end until June. Pretty much the first two months it was college guys who were done with their seasons, pro guys who got back early. Now, mainly, the five-on-five stuff is guys who played professionally overseas. It's been really good.
A.: What do you have your weight down to?
A.: During that Illinois game I was probably around 280-285, probably a lot of unnecessary fat on me. I was still moving fine. But there's always another level. Right now I'm probably around 260-265. I'm a big guy, so my weight is going to fluctuate up and down. I'm trying to keep my weight between 260 and 265. Really, the main thing I've been focusing on is really my body fat, how my body is composed. I was at about 17-18 percent starting this process. Now I'm down to about 11-13 percent. I've been down around 12 these last couple of weeks. I'm really working hard as far as eating and diet. I like food! You've got to do it in moderation. I've been trying not to go cold turkey on some stuff. I burn a ton of calories every day. One day you eat a little bit too much. The next day you compensate. I've been doing pretty well in that department.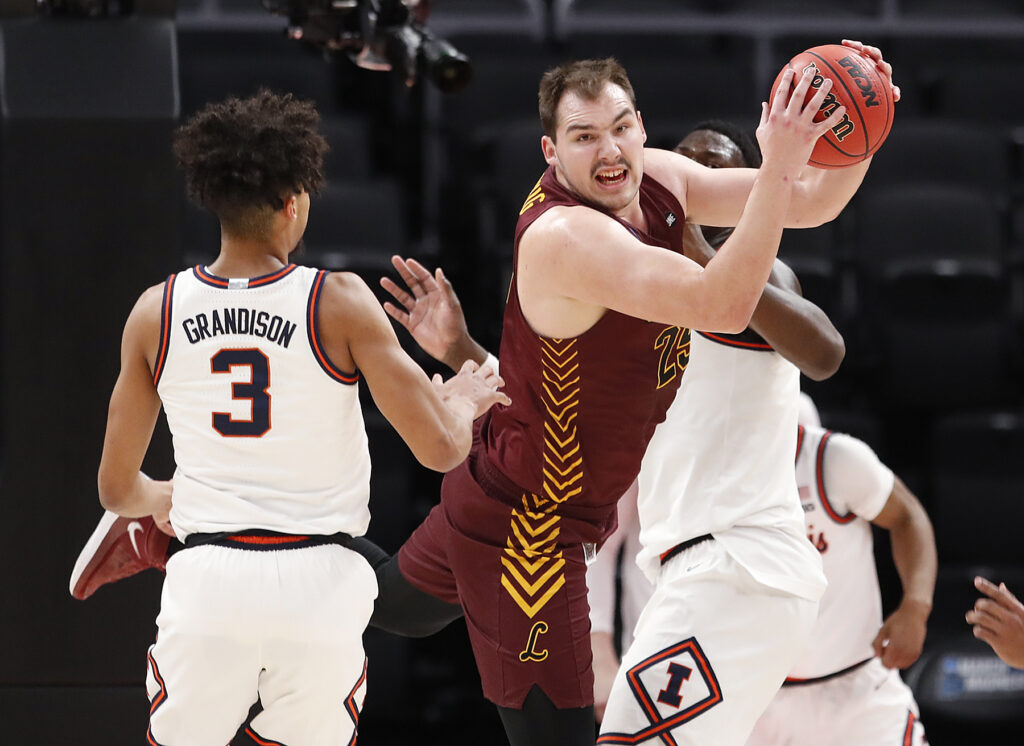 Q.: A lot of Americans go to Europe and have success. The NBA is not the be all and end all. How to you plan to use this experience? Do you want to make it long term or is there a thought that you'll use it and get back over here and play in the NBA someday?
A.: That's a good question because I went to two NBA workouts. I went to the Sacramento Kings in May and then in June I went to Memphis. Memphis was more interested in me than Sacramento. The workouts were good. I thought I played well. Sometimes you get looked at and you go up against a guy who is way more athletic than you, maybe a better shooter. They value different stuff in the NBA than they do over in Europe. In Europe it's more of a team game. It's more emphasis on the team, more emphasis on ball movement, things that we were kind of good at with Loyola. Since I was in college, a lot of people pegged me as an overseas guy. Playing basketball professionally is playing basketball professionally. As far as making money and doing what you love, it's all good stuff. Would I like to be in the NBA, and do I believe I can play in the NBA? Yeah, I think you have to think that, and that's what drives you. Everyone's road is different. Everyone's path is different. Basketball has become international. You can even see it with the USA team. Those are some of the best players in the world, and they dropped two or three exhibition games. Basketball has become and international sport. People are starting to realize that and valuing basketball all over the world. It's definitely not out of the question to be in the NBA, but right now I haven't proved that I'm a good enough shooter for a 6-9 center/forward to play in the NBA. That is something I've got to work on and consistently get better at. I think I can do that over in Europe by playing games against professionals.
Q.: How do you look back at the legacy you and others created at Loyola? How do you look back at what you guys did in terms of everything: filling Gentile Arena, the media, the interest in the sport at Loyola, winning, the culture?
A.: I'm super proud. We're super proud of what we were able to do at Loyola. I liked that you mentioned all the other guys because a lot of people really only know me. They only really know the big names. I was the face of the team in the Tournament. Lucas (Williamson) had some good games. People don't know Braden Norris. They don't know Aher Uguak. They don't know Tate Hall and these other guys who make the team go. It was a lot more than just me and Coach (Porter Moser). It was really 1-15. It was every year. We had two off years, my sophomore year and my junior year. It's not that we fell out of the spotlight, but we didn't make the Tournament those two years. It's hard to make the Tournament as a mid-major. To do what we did, especially my first year, that was the big one. I still talk to those guys. That was the first group to set the path, set the way for my sophomore, junior and senior years. To get back there (the NCAA Tournament) my last year, to start my career off and finish my career like that, I'm super proud. A lot of people have come up to me and congratulated me. You relish it all, but the work you had to do to get to that point, not a lot of people know. Everyone thinks March Madness, the Tournament run, the Cinderella story. They don't see the film (study). They don't see (weight) lifting, working out, practices. That's a credit to Coach. He pushed us. He had a vision for us. But it's also a credit to us as players, not just me, but everyone who have been in and out of Loyola and have stayed through four years and believed in the vision. Super proud. I'll wear Loyola on my chest 'til the day I die. I'll always be a Rambler.
Q.: How do you think the transition is going to go from Porter Moser to Drew Valentine?
A.: I've been to Loyola probably 5-10 times since they've been in their summer workouts. I try to get up there once a week and play with the guys. Everyone seems to be all locked in, just like they'd be if Moser were there. I think that's just the type of guys Loyola has come to recruit and come to expect from their players. I really don't see much changing as far as the culture and the feeling of the team. They have a new strength coach they really like and is pushing them with some new stuff. I think it's a little bit of a new energy, a little bit of a new way of coaching, not that you get tired of the same guy saying the same thing all the time. Coach Moser was there for 10 years, obviously a great coach. I have a lot to be thankful to him for, but sometimes when you get some fresh blood in there, and obviously Drew has been there for four years. Just different thoughts, different ways of doing stuff. I think there's a lot of expectations on them this year. I'm the only guy not coming back, so I think that will help Drew out. He's got pretty much five assistant coaches coming back who have been through tough Valley games and have played in the Tournament. That will help him. He's got his own ideas, his own types of philosophies. From everything I can tell, everyone up there is all in, ready to go. They're having a really good summer.
Q.: What does it say that a kid from Algonquin, Illinois, is about to embark on a career in pro ball?
A.: I always wore Jacobs (High School) with pride. Even when I was a (college) freshman, I always repped the "'Gonq." I'm definitely super proud of where I'm from. It is a good area for basketball. I'm going overseas to start my career, and hopefully it's long one. Hopefully I can stay with the game of basketball for as long as I can – playing, coaching, doing whatever I can. I love this game. It's been great to me. The game rewards people who work hard, who are honest, people who have integrity. That's how I try to go about my business, be a good person. I'm a huge relationships guy. Anyone I've crossed (paths) with on this journey, it's been a great time. I'm excited to get going, get out to Antwerp and start working.
Q.: It sounds like you're fully at peace with your decision not to come back to Loyola, to go pro. Is that accurate?
A.: Oh, yeah. It was a tough decision, but in the end, I kind of knew that my senior year was going to be my last year. Maybe if we hadn't made the Tournament I might have come back, but to end it how we did in the Sweet 16 – obviously we wish we could have made it to the national championship, but there's only one team that ends a season on a win. Definitely at peace. I said my goodbyes up there. This is their team now. This is the guys' who decided to come back. This is their chance to create new memories and have that one last ride. There really wasn't much more I could do at Loyola. I didn't want to go anywhere else or transfer or anything like that. So I felt it was time for me to move on. I still text with those guys. I go up there as a friend, as a mentor, as a guy who likes the guys up there, likes the culture. It's their team this year. It's their time to shine and do what they can do. I'm super excited. I'll be watching from Belgium. Hopefully the games won't be on too late at night. They know I'll be watching.