It's been nearly two years since I took a voluntary buyout and retired from the Daily Herald after 31 years, the last 22 as the beat writer covering the Chicago Cubs.
Since then, I've lived the life of a freelance writer. More about that in a bit.
What I've found out is that no matter what you're writing – whether it's the Cubs winning the World Series or the local flag football team winning a backyard battle – what matters is the storytelling.
I've talked about that often with writer Jeff Vorva, my press-box neighbor and traveling pal for 10 years on the Cubs beat. Since leaving the Daily Southtown years ago, Jeff has worked full time and as a freelancer, covering everything from school board meetings to Chicago Fire games to all manner of high school sports.
Jeff earned the respect of Cubs players for his empathetic interviewing style and his interesting storytelling. He can make the most mundane subject "sing," and I'm sure the subjects of his stories are grateful for the caring attention.
Since I retired from the beat—and the beaten path – I've lived the life of a freelancer, which means there are times when I'm really busy and times when it looks like the well has run dry forever.
My first project was to co-author a baseball-themed novel called "The Phenom," on which I collaborated with a nice man named Jack Shniderman of Chicago's north suburbs. Because the novel consists of day-to-day newspaper accounts of a baseball season, it helped me stay in a daily writing groove almost immediately left the Herald.
(The beat writer in "The Phenom" is named Sam Lardner, who purportedly is a distant relative of Ring Lardner, and Sam's colleagues and competitors call him "Zing" Lardner for his one-liners and wisecracks. Yes, in some ways, "Zing" is an alter ego, who is a bit more smart-alecky than I.)
I've also written for my alma mater, Loyola University Chicago, and their sports website. That has proven to be particularly rewarding. When the pandemic hit, I did stories on former Ramblers student-athletes on the front lines of the fight against COVID in hospitals. I also talked to Final Four Ramblers Marques Townes and Ben Richardson, who either stayed in Europe (Townes) or came home (Richardson) before things got serious with COVID.
It's coming up on the one-year anniversary of a story I did on Dr. Tom Hitcho, a fixture in the Loyola athletic department and someone who is truly "Mr. Loyola" or "Mr. Rambler." What stories he had to tell, and I was glad I was able to help "Hitch" tell them, whether they were about legendary Loyola coach George Ireland or visits to old Alumni Gym by Michael Jordan and Yao Ming.
One stroke of good fortune has been my freelance hookup with a venture called Athletes Unlimited. Talk about stories to tell. Athletes Unlimited has been around for about a year, and it puts on games in women's softball, women's volleyball and women's lacrosse. Its unique scoring systems reward individual play while maintaining the integrity of team play, as they combine the best in sports and fantasy sports.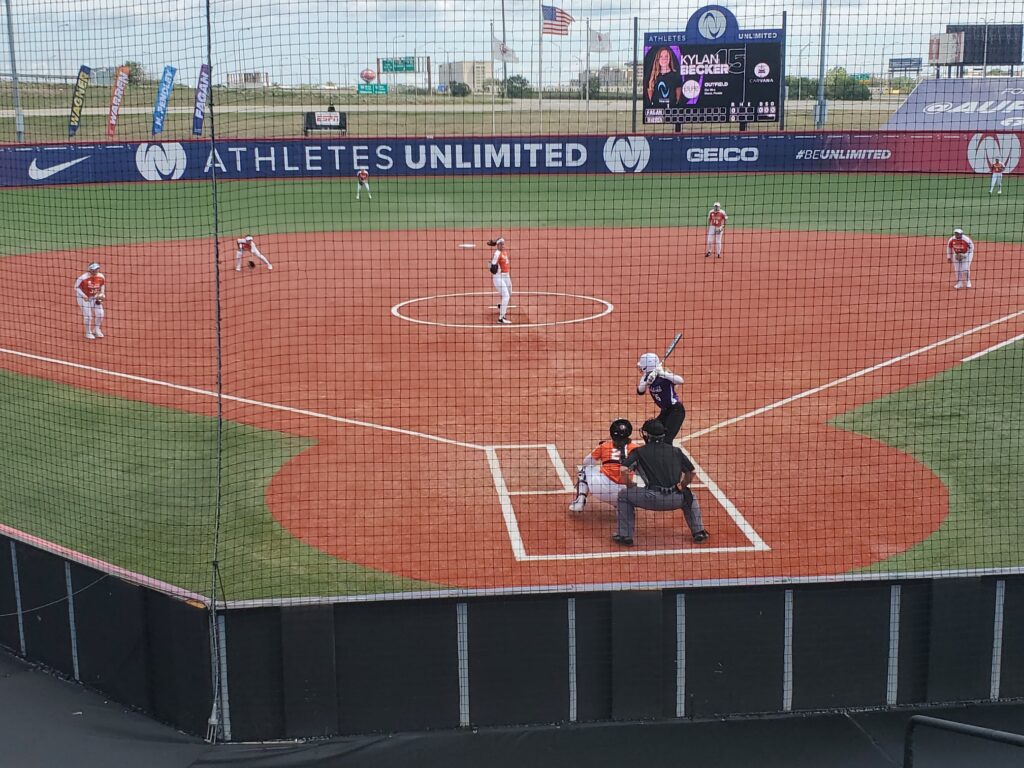 Athletes Unlimited also empowers women. The athletes in all three sports have a large say in the way their sports are run from the scoring system to player drafts to policies on maternity leave.
I covered all of the softball games last August and September in Rosemont, Illinois, and found the level of play to be as high as it gets. No wonder. The players are past college and pro champions and Olympic medalists. Watching Cat Osterman pitch was every bit as fun for me as watching Kerry Wood or Jon Lester deal from the baseball pitcher's mound. And long home runs by softballers Morgan Howe and Jordan Roberts were as breathtaking as many a baseball round-tripper.
And speaking of storytelling, I've done features on Athletes Unlimited players with all kinds of stories to tell. Volleyballer Deja McClendon decided to shave her head and "go bald" as she deals with alopecia. Ebony Nwanebu is an advocate for mental health, based events in her own life. And Jazmyn Jackson is outspoken on all manner of social-justice issues.
When I first started covering Athletes Unlimited softball, I was rather flippantly asked on Facebook why I was covering the games, as if they weren't good enough or interesting enough. My answer is I cover them because Athletes Unlimited wants to me to cover them; I cover them because the games are fun and interesting; and I cover them because the players have stories to tell. Yeah, that whole storytelling thing.
My extensive research on the term freelance turns up: "a mercenary soldier or military adventurer of the Middle Ages, often of knightly rank, who offered his services to any state, party, or cause." Or, a free lance, as it were.
Seems fitting, as Ted Williams used to refer to baseball writers as the "knights of the keyboard."
Onward to the next joust.