Joe Maddon didn't "ruin" Kyle Schwarber when he moved him to the leadoff spot for the Cubs in a surprise moved to start the 2017 season.
Turns out Joe was ahead of his time.
If you're a baseball fan, no doubt you've seen what former Cub Schwarber is doing with the Washington Nationals since being installed into the leadoff spot on June 12.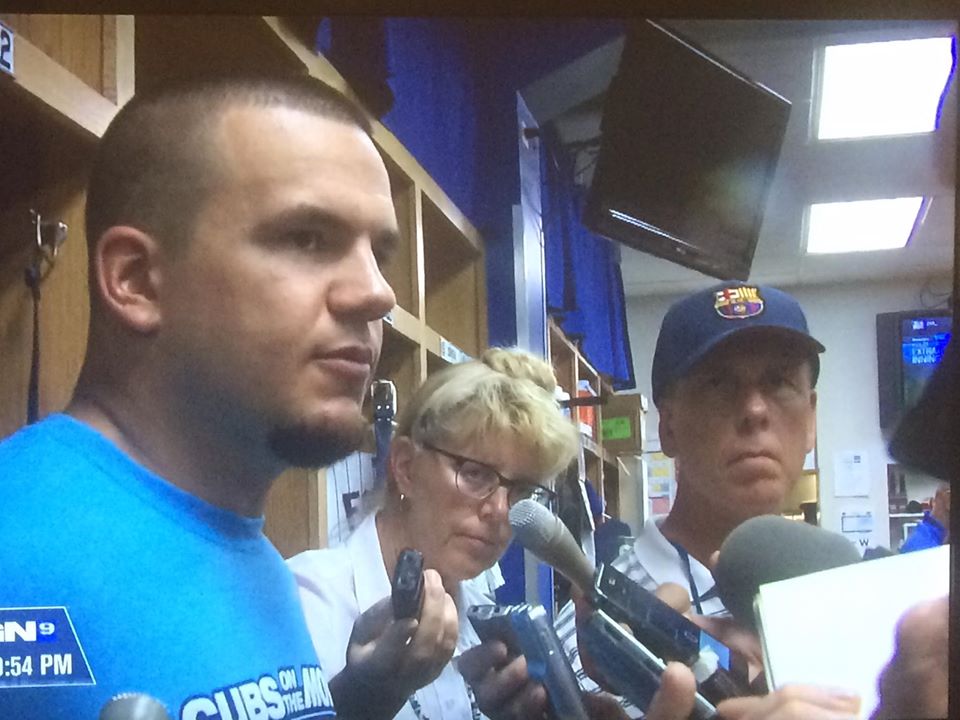 Schwarber hit his 25th home run of the season Tuesday night in the Nats' 4-3 victory over the Tampa Bay Rays. The homer came on the first pitch Schwarber saw in the first inning.
"If you're a baseball fan and you're watching the games and every night … you see Schwarber doing what he's doing, you've really got to appreciate that," Nats manager Dave Martinez told the local media after the game. "You've got to honestly say, 'Hey, that's amazing.' I've been in this game a very long time, and I've never seen something like this."
Entering today's game against the Rays, Schwarber has a season line of .253/.336/.576 for an OPS of .911 and an OPS-plus of 155 (100 is league average). He has 25 homers and 53 RBI. His 25 homers tie him for the National League lead with Fernando Tatis.
In June, Schwarber's line is eye-popping: .292/.364/.792 for an OPS of 1.155. He has 16 homers in June, all since June 12, when Martinez put him into the leadoff spot. Schwarber had 2 homers in April and 7 in May.
"You're not going up there expecting to hit home runs every time you're up at the plate," Schwarber told reporters. "I'm just wanting to try to get on base for these guys or drive in runs. Whatever it is, the ball is going out."
Boy, is it ever.
Of course, many Cubs fans are lamenting that team president Jed Hoyer did not tender a contract to Schwarber last winter. Hoyer opted to sign Joc Pederson, who enters today at .238/.307/.439 with 11 homers and 33 RBI.
Of course, this isn't Schwarber's first foray into being a leadoff hitter. Maddon hatched the idea in the 2016-17 off-season after the departure of Dexter Fowler ("You go, we go") to the Cardinals via free agency.
The Cubs have struggled to replace Fowler's effectiveness in the No. 1 spot in the batting order.
Maddon first publicly broached the idea of Schwarber as a leadoff man before the 2017 Cubs convention in January. Schwarber missed almost all of the 2016 regular season because of a serious knee injury, but he did come back to help the Cubs win the World Series. And his home run against the Cardinals in the 2015 NLDS – with the ball settling atop the right-field video board – will remain the stuff of Cubs legend forever.
When Maddon first floated the idea of the slugging Schwarber as a leadoff hitter, he cited the ability to get on base as well as slug.
"I don't want him to change anything," Maddon said. "His DNA is to see pitches, accept walks, work good at-bats.
"It's always about getting your better hitters to hit more often, and they have a tendency to get on base. And when you get to the 4-hole and it is (Ben) Zobrist, it just make sense based on left-right-left-switch (hitter) and go back to back to left if you want or right. Part of it is just the balance of the whole thing. When people say cleanup hitter or third hitter, everybody's applying conventional means from several years ago.
"My thinking is we're saying better hitter, getting on base and then who can actually protect (Anthony) Rizzo."
Schwarber, a team guy all the way, was all for the idea, saying the leadoff spot was just another spot in the lineup.
Things didn't work out the way anybody with the Cubs wanted them to. Schwarber was moved out of the top spot in June (with Rizzo seeing time in the leadoff spot) and was sent to Class AAA Iowa June 22 after hitting .171. He was recalled on July 6 and rebounded to hit .253 in the second half with 17 of his 30 homers for the season.
Schwarber never would say that his performance suffered because he was in the leadoff spot, and we'll never know if it did.
Most likely Schwarber suffered from a lack of major-league at-bats in 2016 and had a tough time adjusting in 2017.
Now four years older and four years more mature, Schwarber seems to be having a blast – or many blasts this season. From a personal standpoint, it's fun to see because Schwarber was always one of the nicest and most accommodating players when it came to dealing with the media.
The Nats' Twitter account also is having some fun with the Schwarber phenomenon. Tuesday night, it Tweeted:
Home Runs Since June 12:

Kyle Schwarber – 16
Mets – 16
Tigers – 16
Marlins – 15
Royals – 15
Phillies – 14
Reds – 14
Pirates – 13
Cardinals – 11
Dbacks – 9
White Sox – 8@kschwarb12 // #NATITUDE pic.twitter.com/fdZzZJscqv

— Washington Nationals (@Nationals) June 29, 2021
There's still one more day to go in this month. Let's see what happens today. Don't tune in late. You might miss something special.