I'll admit to having a soft spot for Anthony Rizzo.
On the day of his call-up to the Cubs in 2012, Rizzo went around to media members and introduced himself: "I'm Anthony," he said.
That was it. "I'm Anthony."
We'd get to know him well over the years.
Fast-forward to 2019.
When he found out that I had taken a buyout and retired from full-time work at the Daily Herald at the end of the season, he shook my hand and wished me well. He didn't have to do that, especially as all hell was breaking loose that weekend, when the Cubs were getting set to part ways with manager Joe Maddon.
In so many ways, Anthony Rizzo was the face of the Chicago Cubs, from the day of that late-June call-up in 2012 until Thursday, when news broke that the Cubs had traded that face to the New York Yankees for a pair of prospects.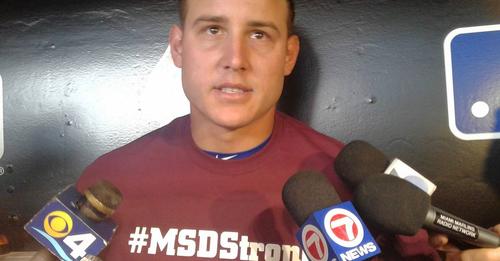 That he's gone under such ignominious circumstances is in many ways the fault of an ownership that set some sort of precedent for frittering away a seemingly infinite amount of good will in record time.
Rizzo didn't get a proper farewell from the Cubs, as manager David Ross held him (and Kris Bryant) out of Thursday's lineup against the Cincinnati Reds at Wrigley Field. In the bottom of the ninth inning, fans could be heard chanting "Bryzzo" in one last-ditch attempt to acknowledge the heroes from the Cubs' world championship team of 2016. Bryant's slip-sliding throw to Rizzo to end the World Series on that damp night in Cleveland forever will be etched into the minds of Cubs fans worldwide.
It was on that night that team chairman Tom Ricketts asked, "How long has it been since the Cubs won the World Series?" Just a couple years later, Ricketts and the rest of his family would not even hold a session with fans at the team's annual convention.
Rizzo was the first real building block of the Cubs' renaissance, which began, however painfully, in the 2012 season, the first under then-team president Theo Epstein and general manager Jed Hoyer.
Epstein drafted Rizzo when Epstein was running the Boston Red Sox, and Hoyer obtained him when he was general manager of the San Diego Padres. Reunited in Chicago, Epstein and Hoyer got Rizzo from the Padres in a trade for pitcher Andrew Cashner.
That trade worked out pretty well for the Cubs. After Rizzo endured parts of three losing seasons during the Cubs' rebuild, he proclaimed them ready to win the National League Central on the final day of the 2014 season.
The Cubs didn't win the division in 2015, but they did win the second wild-card spot and then beat the Pirates in the wild-card playoff game. They upset the Cardinals in the division series, before getting swept in the NLCS by the Mets. It was the first of three straight NLCS appearances for the Cubs.
The Cubs didn't have an official team captain during Rizzo's years with the team, but he was the de facto captain. When reporters needed a state of the state address, Rizzo was our go-to guy.
Amazing consistency was Rizzo's calling card during his Cubs tenure. From 2013-19 his home run totals were: 23, 32, 31, 32, 32, 25 and 27. His overall Cubs line was .272./.372/.489 with 1,311 hits, 242 home runs and 784 RBI. He was a three-time all-star, a four-time Gold Glove winner and a one-time Platinum Glove winner.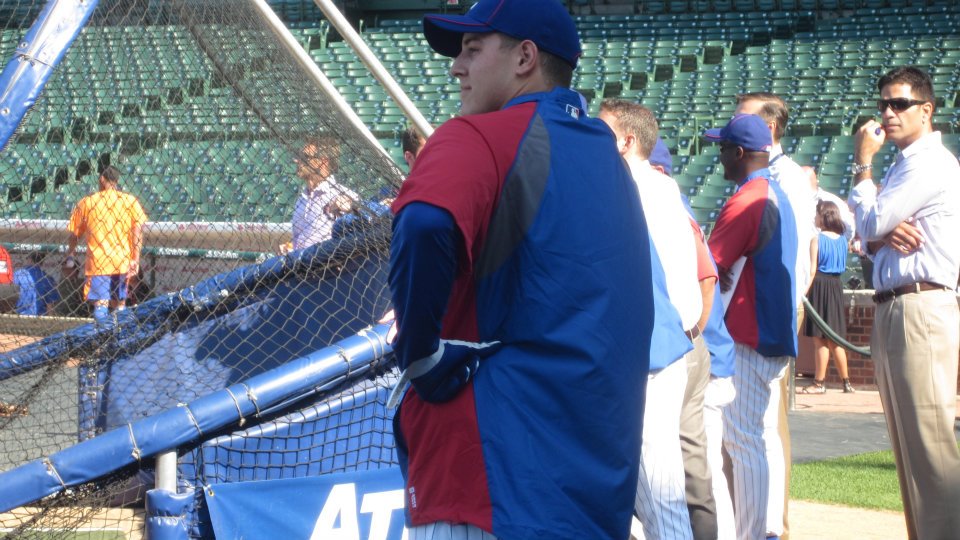 Off the field, Rizzo worked tirelessly to help children with cancer, often making unannounced and unpublicized visits to hospitals as he sought to give back after surviving cancer as a young adult. Rizzo also showed a vulnerable side in talking about a horrible mass shooting at his high school in 2018.
A couple years ago in spring training, I asked him if he had a few minutes for an "old hand." He gave this old hand more than a few minutes. I asked him what drove his off-the-field activities.
"I think perspective comes from how I was raised, my family, my mom's side and my dad's side, giving to others," he said. "With this platform we have, we can give. It's amazing. My wife, Emily, is all on board. She serves others, too. She makes sure everyone is happy, just like my parents.
"It's definitely something that as a baseball player, it's good to go and do that during the season and in the off-season because we're so lucky here. We're spoon-fed here with all the amenities we have. It's very easy to lose sight of how lucky we are."
For now, I'll say we were pretty lucky to have covered Anthony Rizzo. Although Cubs fans rightfully will lament that the team didn't make more of its "window" to win, they'll always have the image of Rizzo pocketing that baseball in Cleveland.
Chicago fans won't have long to wait to see Rizzo again. The Yankees play the White Sox in the Field of Dreams game at Dyersville, Iowa, on Aug. 12 before finishing the series at Guaranteed Rate Field Aug. 14-15.
Maybe somebody will ask Riz if "this is heaven" in Iowa. I'm sure Anthony will say that for a few years, it was a slice of heaven for him at another field of dreams.