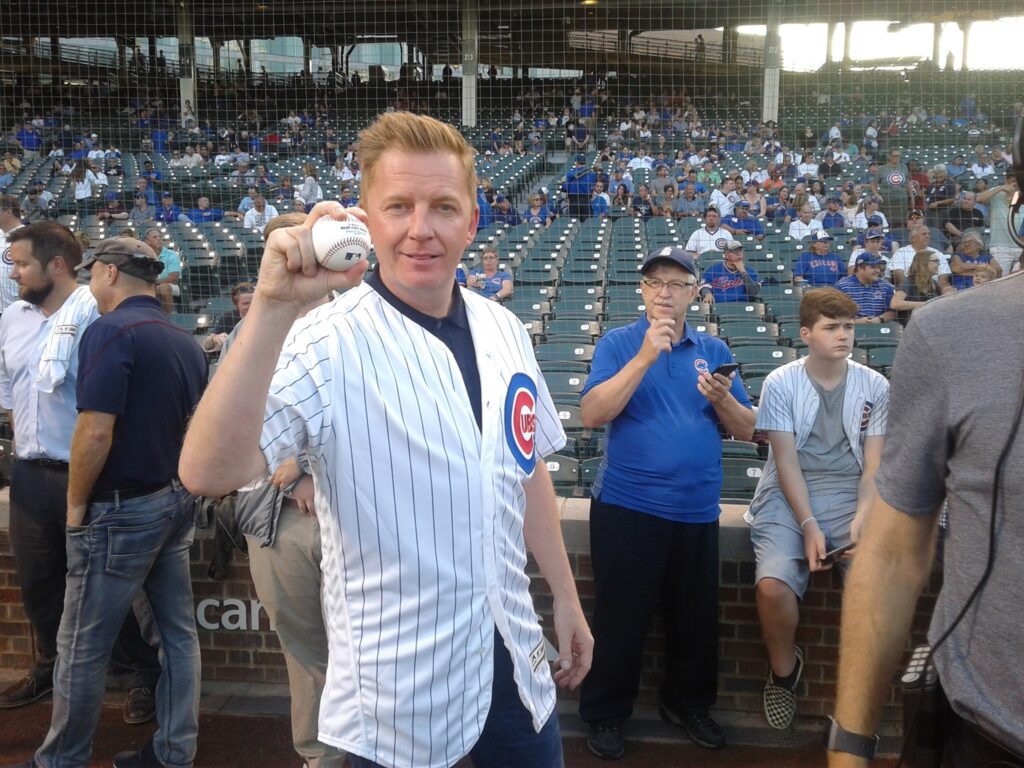 The English are big on their titles, but please allow an American to bestow the title of Honorary Chicagoan on Arlo White.
Seems only right, especially given the patience and stiff upper lip White has demonstrated over the past year as he sought to make it across the pond from his native England to his beloved adopted Chicago.
White, who has gained quite the following as NBC Sports' primary voice of the Premier League, is finally back in the Windy City as the voice of Chicago Fire FC soccer games on WGN-TV as he awaits deployment to Tokyo to cover the sport on the network's coverage of the upcoming Olympic games.
All of this was supposed to happen last year, but the COVID 19 pandemic put everything on hold.
White's love of Chicago and Chicago sports, specifically the Cubs and the Bears, began with a childhood trip. He has been over here several time in recent years, and Cubs fans may remember him singing "Take me out to the Ballgame" and doing a half-inning of play by play with Len Kasper and Jim Deshaies in 2019.
As the Fire's main commentator – for four games before he heads to Japan – White has taken his place in the pantheon of WGN sports announcers, joining the likes of Jack Brickhouse, Harry Caray, Lloyd Pettit, Vince Lloyd and others.
During a casual dinner this week near the Gold Coast, I was able to ask Arlo about a variety of topics. This Q and A is edited for brevity and clarity.
Question: You're back in Chicago. What was the wait like for you?
Answer: Long. The wait was very long – and frustrating. When you're offered an opportunity like this, to go back to a country you love as much as I do and a city you love as much as I do and, like everybody, you're spending so much time not going anywhere, to know that this opportunity was going to be delayed by a year was frustrating. But you have to kind of compartmentalize and understand that it is eventually going to come. You've just got to be patient. I think that's how a lot of people have fought through the pandemic, by taking every day one by one, keeping your feet on the ground, keeping your head above water and chalking off says until the good times roll again. Going back to work for NBC and the Premier League games (last summer and for the 2020-21 season), albeit it behind closed doors, was so valuable for me in my personal life. Getting out and having something to focus on was great. I was able to compartmentalize and be patient, and that's being rewarded now.
Q.: Were there difficulties in getting back this year?
A.: Yes, there were difficulties. And there are still some pretty stiff COVID regulations in place. So I had to jump through quite a few hoops.
Q.: From where does your affinity for Chicago and Chicago sport stem?
A.: From 1985, with my aunt and uncle, Kath and Bill. They came across on their honeymoon in 1985. I hit it off with both Kath and Bill, and he ignited this love of Chicago sports and the Cubs – very much the Cubs – and the Bears. In '86, they paid for me to come visit, and I was over here for three weeks in the summer of '86. That memory and that experience left an indelible mark on my life and my journey. I got to go to a couple of Cubs games. And I got to see the Bears' first preseason home game after they won the Super Bowl. We got seats by the tunnel area, so we were able to get high-fives with all of these great players – (Walter) Payton, (Richard) Dent, (Steve) McMichael before the game. It was just an incredible experience.
Q.: Since you've been in your current job, you've gotten to be in the Cubs TV booth to do an inning of play by play, to do the seventh-inning stretch and throw out a first pitch. What was that like for you?
A.: I knew I was throwing out the first pitch. I practiced with a baseball with my personal trainer. All I wanted was for that ball not to bounce. If it was wide, if it was high, I wouldn't care. If it didn't bounce, I wouldn't embarrass myself. I managed not to do that. On the morning of the game, Max Berman (former Cubs staffer) emailed me and asked, "Do you know the words to 'Take me out to the Ballgame?'" I said, "Well, most of them." He said, "Would you like to sing it during the seventh-inning stretch?" I said, "You can't be serious. Has a Brit ever done it?"
Writer's comment: Ozzie Osbourne.
White: Ozzie Osbourne? Fair enough. Bill (Arlo's uncle) coached me on the words I didn't know. So I think I got it right. I didn't realize you were with the guys in the booth (broadcasters Len Kasper and Jim Deshaies) for a half-inning. One of my big regrets is that I was so swept up in the moment that I had no idea who was batting, and I had no idea who was pitching. I wish I did because I could have made that a little bit better. But it was fun chatting with them; they're such great guys. They were so gracious. To have Kath and Bill alongside me while singing it kind of completed the Chicago circle. They were thrilled. I was thrilled. It was the greatest experience of my life.
Q.: You've done MLS games before, with Seattle, and now you're with the Fire. Are there any differences between doing those games and doing Premier League games?
A.: The preparation is exactly the same. You try to watch as many games as you possibly can of the opposition and of the Fire. You do every bit as much research. I have a system that works for me. The stickers go down on the board. You have to be prepared for everything as we saw 17-year-old Quinn Sullivan starting his first MLS game scoring a goal for the Philadelphia Union. You have to be ready for that. The differences are we use headsets (here) rather than the hand-held mic (in England). It's more multidimensional than the average Premier League call. You're giving the lineups, you're having a chat before a break, you come back from break. During the game, the amount of commercial reads … there's a lot of inventory to get in. That's part of American broadcasting. But the preparation is exactly the same.
Q.: WGN is a legendary sports channel. The names of the broadcasters: Jack Brickhouse, Lloyd Pettit, Harry Caray. Now Arlo White's name is added to that. That's quite some company, isn't it?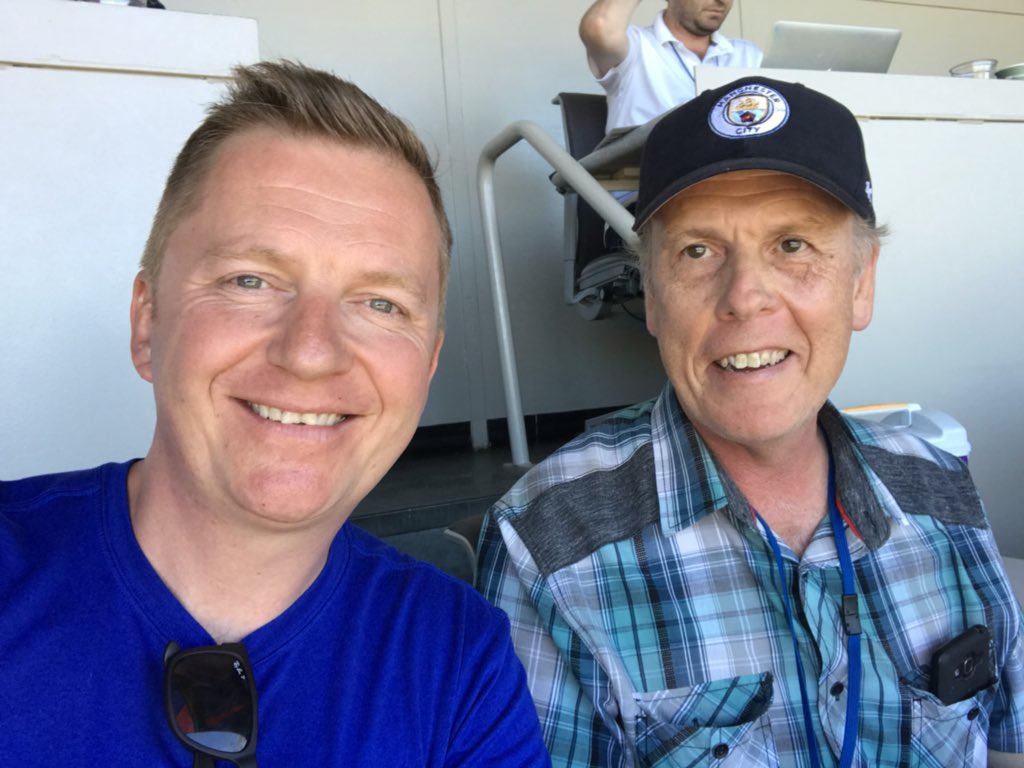 A.: It's not lost on me. I went for a tour of the legendary WGN studios. (WGN's) Bob Vorwald took us around. He has incredible stories about Harry Caray and Jack Brickhouse. When I was here in '86, Harry was the voice of the Cubs. To think that I only graced the airwaves of his TV channel and that I announced where he announced and I did the seventh-inning stretch where he did the seventh-inning stretch, you have to pinch yourself sometimes. This is one of those moments. Bob is kind of Mr. WGN when it comes to sports. He's seen it all. He's been there through the Bears' Super Bowl, through the Cubs' World Series win, through the White Sox' success, the Blackhawks' success, the Bulls' six titles. To have him give us a guided tour of the WGN studio and show us the photos of Jack and Harry and these great broadcasters was an absolute thrill. It's not lost on me at all, the enormity of broadcasting on WGN. It's a real honor.
Q.: This summer is a real whirlwind for you. After you do the Fire games, you're going to Tokyo for the Olympics, and then the Premier League season will start. What will your duties be in Tokyo and what are you looking forward to?
A.: Tokyo is going to be interesting. I'm not sure how free we are going to be to experience the country or the city (because of COVID), which will be disappointing. There are going to be challenges associated with that between games. But we are allowed to go to the games, which is great. I'll be commentating on the U.S. women's team with Julie Foudy, which will be great. Hopefully the U.S. women's team will go deep into the competition. They are very heavily favored to do so. The last time, we were in Brazil, and they crashed out unexpectedly. So that was disappointing. I saw them win gold in London (2012), which was amazing. Fantastic viewing numbers, 80,000 people at Wembley. It's going to be an interesting experience. It's an honor and a privilege to go and be the voice of their progress in the Olympic games for a third time. And when I get back, I think it's five days, and we're back into the Premier League. It's a busy time, but it's fun.
Q.: Your call of Alex Morgan's goal in the 2012 Olympic semifinal against Canada – "Oh, it's in! Alex Morgan has done it!"– is a signature call. Do you look back on it fondly?
A.: I do. I kind of celebrate it. It pops up on social media every year on the anniversary of it. It's still one of the best games of football I've ever called because it was so important. It was a semifinal of the Olympic games. It was at Old Trafford (home of Manchester United). There was a decent-sized crowd. The United States trailed three times in that game. Poor Christine St. Clair (of Canada) never gets a mention, never gets talked about. She scored a sublime hat trick. But the American team, back then and still now, just have this "never say beaten" desire. They came back three times and for that goal to be scored in, I think, the 120th minute of the game, one of the latest goals scored in FIFA-sanctioned competitions. It was a great moment. I think my voice broke a little bit during it, and I had to get the following game off in order to preserve the voice off for the final, and the men's side. But that was one of my career highlights, without the shadow of a doubt. I hope something as monumental happens in Tokyo.
Q.: The popularity of the Premier League in the U.S. has grown exponentially since NBC took over the rights to televising it. How much of that is due to the coverage of NBC and NBCSN?
A.: I'd like to think we've had quite a lot to do with the growth. I know the league is very, very happy with us. And I know they've only previously given six-year contracts to China because it's such a complicated broadcasting situation there. So for us to get six years was significant. And they've been very happy with the product we've been putting out to the American audience. We're going into the final season of those six years, and I guess we'll have to write another sizeable check to carry on. And I really hope we do. I think we've been good for the league. I think we've been good for the sport. We've given it the respect that it's due. It's been a lot of fun. It's been a career highlight.
Q.: What do you think will be the key talking points when the Premier League season starts in August?
A.: I think the new managers in new positions. Nuno Espirito Santo at Tottenham Hotspur and Rafa Benitez being a controversial choice at Everton. Can (2020 champions) Liverpool regain what they lost last season (to Manchester City) because they were very unlucky with injuries? They only just snuck into the top four on the final day, which was quite an achievement from where they were. Can Chelsea challenge Manchester City for the title? (Chelsea manager) Thomas Tuchel just seems to have a number of (City boss) Pep Guardiola. He beat them three times, in the Premier League, the FA Cup and in the Champions League final, which is very hard to do. So can they sustain a challenge to City, who will once again be fantastic? Manchester United is very interesting because they looked to be making a lot of progress and then regressed again at the end of the season. I think we saw how important (defender) Harry Maguire was to them. I hope we get a title race. There will be manager sackings, and there will be great games. It will be the usual roller-coaster ride of emotion and entertainment.
Q.: Over here we call them broadcast booths. In England, you call them gantries. Do you have a favorite vantagepoint, a favorite stadium, a favorite grounds to call a game?
A.: I do. Everton (Goodison Park) is hard to beat. It's got a Wrigley Field feel about it. It's an old stadium. It's a very historic stadium. It's kind of crumbling. It's kind of basic, but I love it. And we've only got it for about three more seasons (before a new stadium opens). You're very close to the fans, but that adds to the fun. I think more lately, I'd say Anfield (home of Liverpool). When that place is full and bouncing, there are few places better. Their new stand is incredible, and we look forward to that being full again, full of noise.
Q.: You grew up in Leicester. They won the title in 2016. How did you keep it together?
A.: Haha! I ask myself that question every day. It was so ridiculous. It was so outlandish. It was so fanciful that that would ever happen. Not just Leicester winning the league, but even finishing in the top six, even getting anywhere near those big clubs. The previous season we were bottom with nine games to go. We were going to be relegated, and we won seven of them. So there was some momentum heading into the season. It was right around the turn of the year when I thought, "Wow, we're good, and the traditional powers are not necessarily very good." So all of these things happened at the same time. It was like a perfect storm. To keep it together, it's hard to explain to people when you're a professional broadcaster. That's what you do for your living, so you leave your fandom at the door. The best times for me, the calmest times, were when I had a microphone in my hand. I must have called 15 of those games in the stretch. The most nerve-wracking times were the six-and-a-half days between the games, when you were a fan again. So working the games made it easier. That's when I was at my most comfortable and least stressed.
Q.: What's on your bucket list of what you'd like to cover or commentate on?
A.: I'd like to commentate on a Bears game in whatever form or shape that takes. I've commentated on five Super Bowls. I have done Bears games for the BBC. I'd like to have a go at doing on television one day to the American viewers to see how that plays. I think people would be horrified by a Brit calling NFL, but I'd really like to give it a go.