Few jobs require one to meet with the media twice a day. Such is the life of a Major League Baseball Manager.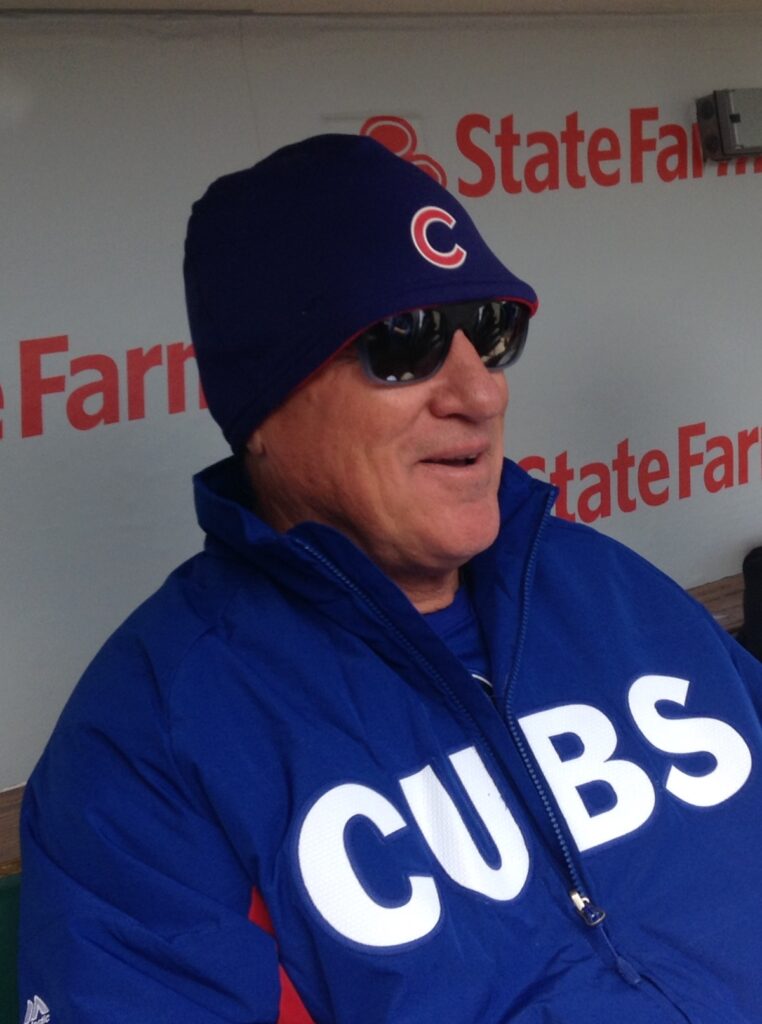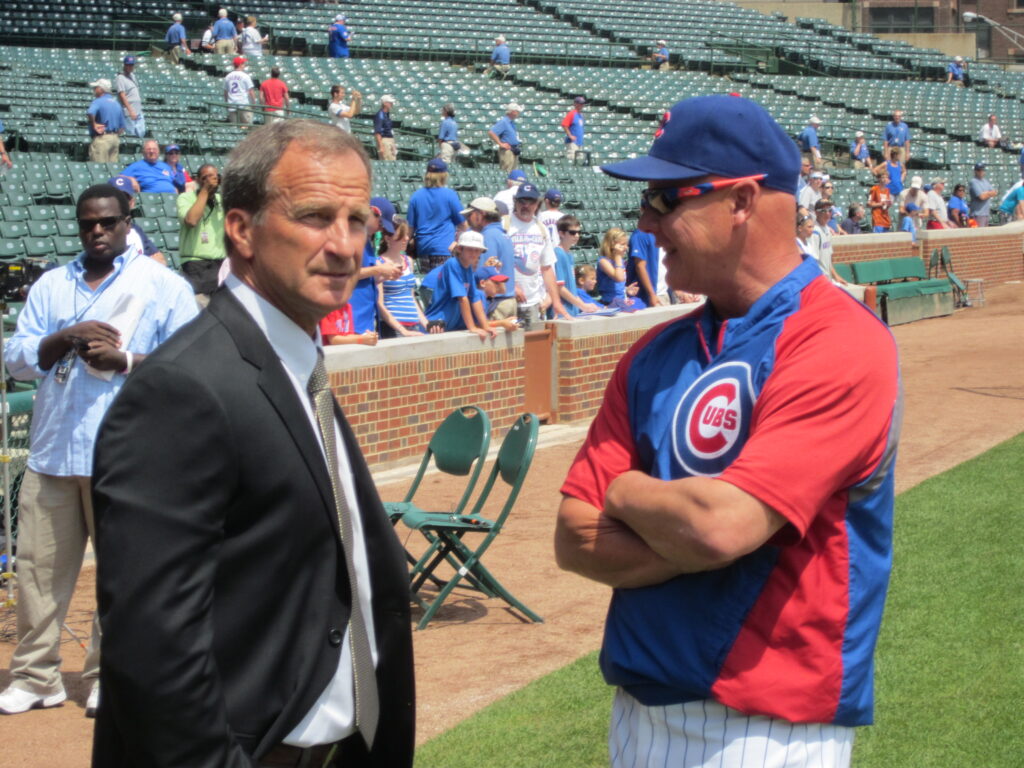 Over the last quarter-century, Chicago Cubs managers have come in all temperaments and were touted with varying degrees of excitement.
The Cubs have hired self-described "vanilla" managers (Jim Riggleman) and those of more exotic flavor. Dusty Baker had to tamp down expectations so much that he introduced himself as "Dusty, not Messiah." Talk about expectations.
They've hired previous world champions and utter novices. They've had an interim manager who lasted one game.
I've yet to cover current Cubs skipper as manager – I saw plenty of him as a player, and he's one of the few players to thank me for having covered him, as he did in the  parking lot after the 2015 season.
As the Daily Herald's Cubs beat reporter from 1998-2019, I covered 10 skippers, from Riggleman to Joe Maddon, both of whom lasted five full seasons.
As a couple of us were getting on in years, we'd ask each other, "How long do you want to keep doing this?" Sometimes the answer was, "I don't know. I'm not sure I want to break in another manager.
We've left it to others to break in David Ross.
Here is a whimsical look at all 10 of the managers I covered, from highlights to lowlights and all points in between.
Riggleman
Riggleman has managed some historically bad teams and may go down as America's interim manager or everybody's favorite bench coach.
"Riggs" came from San Diego along with new general manager Ed Lynch after the strike-shortened 1994 season. With the Padres, Riggleman was 112-179, including a 61-101 mark in 1993 and 47-70 in '94.
In his first year with the Cubs, he had them in first place at the end of May before the team faded. A late surge was unsuccessful at getting the Cubs a playoff spot.
Riggleman famously stood up to Sammy Sosa for perceived selfish play at the end of the 1997 season. He rode rookie Kerry Wood hard in '98 and looked back on it by admitting to contributing to Wood needing Tommy John surgery in the spring of 1999. As it turned out, Wood had been used heavily by his high school coach. Throughout his career, Wood never blamed managers for his numerous injury woes.
Riggleman's high point came when the Cubs won the 1998 wild card, needing a Game 163 victory against the Giants to get into the division series, in which they were swept by the Braves.
The 1999 Cubs, minus Wood and with a rotation that included at times Brad Woodall, Scott Sanders, Micah Bowie and Dan Serafini, started 32-23 before finishing 67-95, including 6-24 in August. The downward spiral started in mid-June, when the White Sox swept the Cubs at Wrigley Field, capped by Mike Caruso's tie-breaking two-run homer off Rick Aguilera in the series finale.
Riggleman was fired the day after the season ended. As he did with all things, he took the news stoically.
"Sometimes they just get tired of you," he said, referring to fans, media, players and front offices.
Riggleman went on to managerial stints with the Mariners, Nationals (quitting on the spot one day when a contract extension did not seem forthcoming) and Reds, compiling an overall record of 726-904.
Don Baylor
The Cubs and team president Andy MacPhail thought they were getting Don Baylor the player when they hired him in the fall of 1999 to replace Riggleman. As a player, Baylor was hit by pitches 267 times, retiring with the all-time lead. He ran the bases ferociously and helped MacPhail's 1987 Minnesota Twins win the World Series.
What the Cubs got was somebody who liked to play small ball – witness No. 2 hitter Ricky Gutierrez leading the National League in sacrifice bunts in 2000 and 2001.
Baylor ran afoul of Sosa in 2000, when Sosa interpreted unattributed critical comments about him costing the team as many runs on defense as he drove in on offense to Baylor. Sosa blasted his manager and was nearly traded during the season before agreeing to a contract extension the next spring.
Nor was Baylor fond of the work ethic displayed by catcher Todd Hundley, signed by the Cubs before the 2001 season to a four-year, $24 million contract, ostensibly to be their starter. But when Opening Day came, Baylor went with Joe Girardi, a favorite from his days as manager of the Colorado Rockies.
The Cubs rushed to a 21-12 record in '01 and were in first place for 96 days, mostly from late April through mid-August before the team fell out of contention.
A star in his playing days, Baylor never seemed to relate well to or interact at all with the players he managed. Admittedly never fond of pitchers, he also clashed with pitching coach Oscar Acosta, who was let go at the end of the '01 season despite the support of his pitchers.
After the Cubs got off to a 34-49 start to the 2002 season, MacPhail flew to Atlanta and fired Baylor on July 5.
I remember him as a kind and generous man. During spring training of his first year with the Cubs, we got to talking about interests. He said he was a wine lover. I told him I liked reds. He said, "During the season, we'll have a glass."
I didn't think anything of it.
The very next morning, as I was walking to the clubhouse, he beckoned me into his office and handed  me a shopping bag.
"Here," he said. "Enjoy these."
There were two bottles of red wine in the bag.
One day during a dismal season, one of the clubhouse guys came up to me at Wrigley Field and said, "Don wants to see you in his office."
Uh-oh, I thought. What did I write now?
"When I got to Don's office, he said: "Here's a couple more for you to try."
Rene Lachemann
Jim Hendry was promoted from assistant general manager to GM when Baylor was fired, and Hendry tabbed Class AAA Iowa manager Bruce Kimm to take over the big club.
Kimm could not get to Atlanta in time for the first game of the post-Baylor era, so Baylor's bench coach, Rene Lachemann, managed one game, a 4-3 loss.
Before the game, reporters in the hallway outside the clubhouse heard Lachemann berate the players, telling them that, "because of you, a good man is going home."
After the game, Lachemann stopped me cold when I tried to ask the first question.
"This is how we do things here," he said. "First I give a short synopsis of the game, then you get to ask your questions."
Lach is a true character of the game, and it would have been better had he been named the interim boss after Baylor was fired. I would have loved listening to his synopses.
Bruce Kimm
Kimm finally got a chance to manage in the big leagues, and it didn't take him long to fritter it away. He was not shy in telling players that he had worked his whole career for this opportunity, and that immediately turned off stars such as Sosa and Moises Alou.
Then, after a tough Sunday night loss at St. Louis September 8, Kimm let his team have it during a profanity-laced tirade.
"The way we play the game is bullshit!" he screamed, as reporters wrote down the words outside the clubhouse door. "If you don't want to do it right, get out of here. It's a damn shame."
The final straw came later in the month, when Kimm kept insisting on playing veteran Fred McGriff at first base over then-prospect Hee Seop Choi. Kimm's reasoning was that veterans would not want to sign with the Cubs if a guy like McGriff was disrespected.
Kimm was fired with ruthless dispatch after putting up a 33-45 record. He never managed again.
Baker
There are so many layers to Baker's tenure in Chicago that it might take 600 pages to get through them all.
While proclaiming himself not "Messiah," he also asked, "Why not us?" and had t-shirts with that saying printed. A few are still in circulation even though Cubs business-side management didn't take kindly to the slogan, thinking it was somehow beneath the dignity of a franchise such as the Cubs.
On the eve of the 2003 season opener in New York, a couple of us ran into Dusty at the Grand Hyatt bar, where we tried to buy him another Oban Scotch. He declined and said to me: "You better have your boots on because you're going to be going through so much shit. I'm not losing. I … am … not … losing."
Baker's high point came during a five-game series against the Cardinals at Wrigley Field. During beanball-filled series, Baker responded to criticism from Cards pitcher Matt Morris by saying the Cardinals had "a whole decade of us coming." (Dusty was a decade ahead of his time on that one.)
Documentary segments already have been produced on Baker's handling (or lack of handling) of pitcher Mark Prior and the entire situation during Game 6 of the National League Championship Series, the so-called "Bartman game."
The '04 Cubs seemed to have a chip on their shoulder from the get-go, with LaTroy Hawkins calling a press conference to say he was not going to talk to the media, adding a parting shot that he could do the media's job, but they couldn't do his, which made for some interesting writing and commentating after blown saves.
Players feuded with broadcasters Chip Caray and Steve Stone, with Baker's tacit blessing.
The Cubs descended quickly in 2005 and '06, with Baker complaining almost daily about his lot in the final throes of the '06 season. After the final game, MacPhail resigned as team president and Hendry "did not renew" Baker's contract.
As interesting and as well-read as Dusty is, he never seemed comfortable in Chicago. Had the Cubs won in '03, I'm sure then-marketing chief John McDonough would have commissioned a statue of Dusty, complete with a toothpick in his mouth.
Funny as it sounds, most of the pitchers I've talked to from the Baker era have said they'd go through a wall for him, despite the perception that he "ruined" them.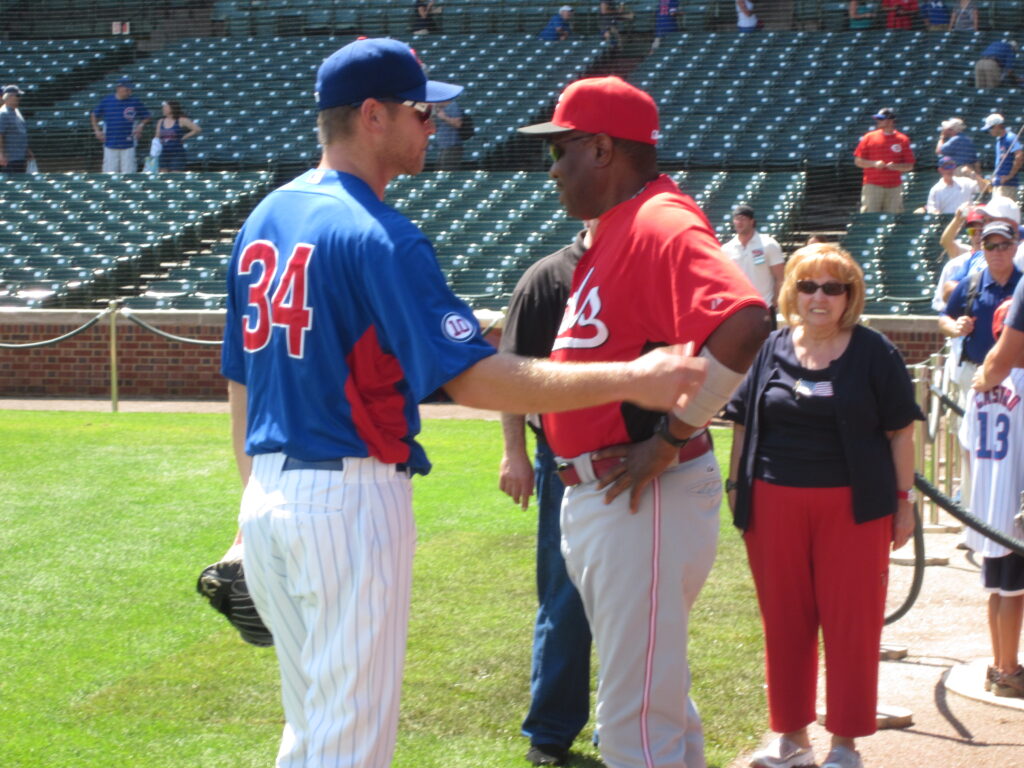 Lou Piniella
If Baker felt that walks "clog the bases," Piniella had the antidote at his introductory news conference, joking he was going to send nine midgets to the plate and let them walk.
Although Piniella did reach the division series in his first two years with the Cubs, the start was a rough one. Near the end of May 2007, Hendry and front-office members marched through the Wrigley Field clubhouse in full view of the media and went up to Piniella's office, setting off all manner of speculation.
Piniella later said he assured the brass that the team would turn things around.
The Cubs fell to 22-31 on June 2, but the game proved memorable because Piniella's tirade and ejection after a close call at third base.
Whatever, the Cubs went on to win five of their next six on the way to the National League Central title.
The Cubs were swept by the Diamondbacks in that series. After Piniella pulled starter Carlos Zambrano after six innings and 85 pitches in Game 1, saving him for a later game that was never played, Piniella was asked if he regretted the move.
"I regret nothing, sir," he replied.
A "sir" always meant Piniella was annoyed by the question. Another time, he asked a reporter, "What kind of baseball do you play?" And to another, he shot back, "You think we're stupid?"
On a couple of occasions, Piniella would not show up at all after a tough night-game loss. He'd tell the media the next day he had a headache or some such ailment.
Things went downhill quickly after the Cubs were swept by the Dodgers in the 2008 NLDS. Saddled with outfielder Milton Bradley the next season, Piniella had the Cubs were tied for first place as late as August 5 before the team faded.
It seemed both Piniella and the team quit on each other in 2010, when Piniella also dealt with his mother's illness. Seemingly out of spite, Piniella wore his Yankees World Series ring to one game, and before another, he let the media know the players were eating caviar in the clubhouse.
Lou finally resigned with the team at 51-74.
Mike Quade
While the smart money was on Hendry to appoint bench coach Alan Trammell as Piniella's replacement, Hendry went instead with Quade, a Prospect High School graduate who had done a creditable job as third-base coach.
Hendry liked the job Quade did down the stretch so much that he named him manager for 2011 after the season, bypassing Hall of Famer Ryne Sandberg, who had worked his way up the organization as a minor-league manager. Even team chairman Tom Ricketts, who rarely talks to the media nowadays, joined the news conference to praise Quade.
Pitcher Ryan Dempster went so far as to invite beat writers into the players lounge, where he cracked open beers for all.
"What bad happened for the Chicago Cubs today?" Dempster asked. "Nothing. Something great happened for a great man and a great manager."
Things changed quickly. Dempster looked incredulous after being pulled from a start in Pittsburgh the next season. Quade argued with an umpire over a rain delay, and he even went all Copernicus on us when berating infielders Starlin Castro and Darwin Barney for a popup that dropped after they lost it in the sun.
"The sun's been in the same spot for however long Wrigley Field's been here," Quade said.
Theo Epstein took over as team president in the fall, and he and new GM Jed Hoyer quickly relieved Quade of his duties.
Dale Sveum
Sveum was part of an unusual process by which Epstein and Hoyer paraded managerial candidates before the media after their job interviews.
Sveum got the job at the beginning of the Cubs' rebuild and entertained the media with such words as "cybermetrics" and phrases as "you can beat that to a dead horse."
A solid hitting coach by trade, Sveum became frustrated with the lack of progress being made by Castro and Anthony Rizzo in 2013 and hinted that one or both could be sent to the minor leagues. Epstein was not happy with that, but when talked turned to Sveum's job status, he said, "No alarm bells."
The bell tolled for Sveum after the final game of the season. He was fired after a two-year record of 127-197 but went on to coach in two World Series with the Kansas City Royals, getting a ring in 2015.
Rick Renteria
Renteria was known as "The Secret Weapon" during his playing days. Cubs fans likely new little about him when he was named manager after Sveum was fired.
Renteria's tenure was largely forgettable. He gave reporters little, with his pregame media sessions sometimes lasting just five or six minutes.
After one tough loss, he found a silver lining by noting that the Cubs had forced Reds closer Jonathan Broxton to get "hot" in the bullpen.
The Cubs went 73-89 under Renteria, a seven-game improvement over the previous season.
However, the writing was on the wall for Renteria when news broke after the season that Joe Maddon was exercising the out in his contract with the Tampa Bay Rays and would not be hooking up with Rays GM Andrew Friedman in Los Angeles with the Dodgers.
At that point, the Cubs were going to get Maddon or die trying. They got him, and Renteria was the unfortunate victim.
Maddon
Someday, with time for proper perspective, Maddon will get his due as the manager who guided the Cubs to their first World Series title in 108 years.
The 2015 club was "a year ahead of schedule," as the narrative goes, when it made it to the NLCS. That was in large part due to the vibe Maddon created.
Although some maintained the Cubs won the 2016 World Series in spite of Maddon's managing in Game 7, few mention that Maddon kept the team on an even keel after it was down three games to one to the Cleveland Indians. He met with beat reporters in his office before each game and even when the Cubs were down 3-1, the music played and Maddon was laid-back.
When the Cubs failed to make it back to the Series after '16, Maddon's methods were questioned – everything from the themed dress-up road trips to the lack of structured batting practice on many late-season days.
Maddon did alter his methods in 2019, spending more time being a hands-on coach. In the end a number of factors – including the lack of a bona fide closer for about 70 percent of the season and no real leadoff hitter for a third straight season – conspired to doom the Cubs to watching the postseason on TV and cost Maddon his job.
But someday, Maddon's regular-season Cubs record of 471-339 (.581) should get him a statue outside of Wrigley Field, and his overall body of work should get him to Cooperstown.
As for the inscription on the statue, "Never permit the pressure to exceed the pleasure," was the first saying Maddon hit the media with during his introductory shot-and-a-beer news conference.
"A mind once stretched as a difficult time going back to its original form," was another.
Might as well drink a toast to those.